As quoted in TheStreet.com
the day before a significant
gold breakout. Subscribe to
the Live Monitor and trade 
the markets with confidence.
Written by Marc Eckelberry
Sunday, 30 September 2012 18:21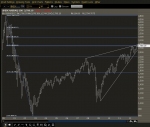 Per my last post, the NDX breakout above 2805/2806 (50% of the 2000/2002 bear market) needed to hold at month's close to be trusted. It didn't. This makes the entire FOMC rally a potential vicious bull trap with bearish consequences. Note the ascending wedge topping pattern, which now brings up must hold support around 2600, a level that will most likely get tested soon.
Note that we have had four consecutives week of Investor Intelligence above 50% bullish, the opposite of where we were last October (chart 2, courtesy Schaeffers.com). Not a good omen for bulls.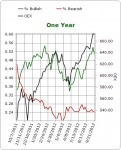 Rallies are to be sold until proven otherwise.
Written by Marc Eckelberry

Sunday, 16 September 2012 20:31
NDX cracks open the door again, with a suprise pre-election helping hand from the Feds. As noted many times, this is by far the most important index to follow. The key level of resistance, 50% of the secular bear market of 2000/20002 at 2805.80, was crushed again and this time it wants to hold. Monthly closes are what counts with long term charts, so we still have a few weeks to go. We are also forming a steep and ominous ascending wedge. Right now, bulls have the ball, riding on the Fed high. And riding they are. Multiple sub 0.55 equity put to call readings and two weeks of Investor Intelligence readings at 50%, which we have not seen since the April top. But last week's relative divergences are still present, namely the hi/lo index for NDX still lagging the broader market. All this adds up to caution flags. These are reacherous times and revesal have been brutal, easily wiping out days of gains in just minutes. Mind your step.
<< Start < Prev 1 2 3 4

5

6 7 8 9 10 Next > End >>


Page 5 of 20